Things are off to a great start:
Sunday was the start of the last season of Downton Abbey and the Packers loss on Sunday – which might've gotten them a better playoff game opponent, the NFL team from Washington DC, as Al schooled me to call them, rather than their racially insensitive name. We had a good Sunday breakfast too, leftover squash quiche, duck fat potatoes and winter fruit salad. Tho this is the time of the year when I worry about chubbing up. I get thinner during cookie season; I'm on my feet so much, and then fatter in January, the reverse of most people, who plump during the holidays then thin after.
On Monday I went to work, had a meeting, mostly finished my two syllabi for my two sections, online and on-campus, of the same course, dealt with a bunch of administrivia, had lunch, and then left for Chicago. When I got there, I wanted to go to a ramen & sushi place, and get a big bowl of noodles, but Mark wanted a burger so that's what we had.
Tuesday I worked at Mark's place and met Al for breakfast – Kanela Breakfast Club on Clark. He got the Chorizo & Eggs, I had the Breakfast Sandwich. And, my baby boy's all grown up – he paid before I could. I took the brown line back south, and stopped at the hardware store for some of the little plastic things you slip onto keys to color code them, and then at Trader Schmoe's for coffee and unfortunately I picked up a bag of "Scandinavian Swimmers" – fancy Swedish Fish, lobsters and seahorses mostly. Unfortunate, because I ate a few too many of them, and wasn't really hungry enough for dinner, even though I walked 40 minutes to meet Mark at Xoco as planned. Which was closed – so we went to Maggiano's, the original, on Clark across the street from Xoco, instead. Split a Caesar, and I ate three stuffed shells and two pieces of bread, which doesn't sound like a lot but I'm sure it was too much on top of all the candy lobsters.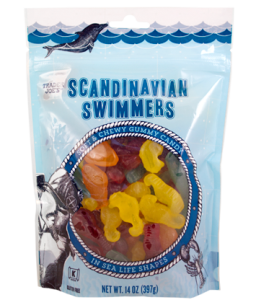 Then we headed to the Lyric for Bel Canto, which was kind of a mess, but fun to see – it was violent, and didn't have any good melodies, and a lot of the words weren't particularly poetic, either, as in: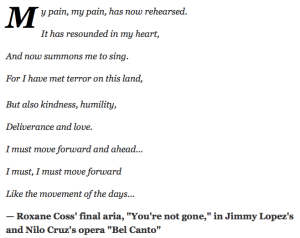 Wednesday I got up at 5:45 and made the 7:30 train which got me home by 11:00 and in to work by noon. I have to go back tomorrow, so that I can fly out of Midway to ALA Midwinter on Friday. Now I am dreading that return trip, doing the drive to Harvard, catch the train routine, since they are predicting snow and rain and freezing rain for pretty much the whole state. Hopefully it won't be as bad as they say.