So, my almost daughter in law, Megan, John's girlfriend, has been living with me for the last two years, while she did her undergrad degree at UW-Madison, and John was in graduate school, getting an MFA in photography at Columbia College in Chicago.
They both graduated the same weekend. UW-Madison and Columbia are on pretty different schedules, so I never thought the graduations would be so close together, but then again, what do I know. The opening reception and champagne toast to the graduates for John's program was on Friday the 13th, from 4:00 to 8:00. Megan's graduation was at noon on Saturday, in Camp Randall Stadium, and she needed to be in her seat at 11:15. Then John's graduation ceremony was at the Chicago Theater, at noon on Sunday, and he was supposed to be there at 11:00.
Just to make it more interesting, months ago, thinking the graduations would be farther apart, Mark got us tickets to see the Lyric Opera's production of the King and I, on Thursday. Then, even after we realized how much was all going on at once, we really wanted to see the Dressing Downton Abbey show at the Dreihaus Museum, and tickets were sort of hard to get, but I got a pair at noon on Thursday, the day of the King and I.
That meant that on Thursday, I got an early bus to Chicago, and we went to the Museum. We had time after to get sandwiches at Eataly, and go back to the apartment and change before heading to the King and I. Which reminded me of my mom, of course, since it's Rodgers & Hammerstein. Shall we dance.
Friday, worked all day at the apartment, then went to meet John and his cohort at MoCP, and off to the opening. Mark came later, when he got out of a meeting, and after we looked at the work and the toasts, the kids went off to play, and Mark and I got burgers, changed, and drove to Harvard (in the rain, in construction in I-90) where we left my car so I could drive it back to Madison on Monday, and picked up Mark's car, and drove the rest of the way home.
Saturday morning I got up early to bake a cake – I had this vision that we'd all be eating frsh tender slices pf it before the graduation. But we had bagels instead. The kids and Jeff arrived just as I was about to text them that I was going to get those bagels. Megan's parents and brother arrived and we all ate and had coffee, and bundled up and walked to the stadium, where we froze and got sleeted on for 2 hours, listening to speeches. Came back home for snacks, then the kids and Megan's parents went off to sight see a bit. Mark and I got in line at Grampa's and except for having to freeze for another 20 minutes, it worked perfectly to get us a table for 8 on graduation weekend, at a restaurant that doesn't take reservations. After dinner, we saw off Megan's family, who were driving back to Iowa. Gibs Bar next door was too crowded, so we went to Olivers for another drink, then us old folks went to bed and the kids went out.
Sunday morning we all had to be out by 7:00 for the next round – trip to Chicago, and graduation ceremony. The production values at John's graduation were a little higher than at Camp Randall – Columbia is an art school, afterall. And it was indoors. I think I'm going to see if the library school faculty can process in to "walk this way" next year, like Johns profs did. We went and hung out at the game room at the Athletic Club, the graduates pick, because they went there after crit class a lot. She grew up in Florida, but Eileenrae's parents are from Pittsburgh, and her aunt still lives there, so we bonded telling Pittsburgh tales. Then we took the red line to meet Al & Emma at Hopleaf. Where Megan finally got her moules frites. It was really good – craft beer, good food. Mark and I split a salad and steak frites. The bavette, that John correctly called skirt steak – and  it took me until this morning to remember it kind of means flap or bib. Everyone went home and collapsed in front of GoT – I had to re-watch it Monday night, because I got dozy. I caught the 7:30 train, and made it to work in time for my 1:00 and 2:00 meetings, after feeding the cats – gave Khan some of his drugged salmon. I haven't unpacked yet, and there're still newspapers strewn all over the kitchen counter. Something's leaking under the kitchen sink, so I stopped at the Starbucks in Janesville and called the plumber. I did a little grading on the train, but still need a serious chunk of time to finish completely – I'm hoping tomorrow afternoon.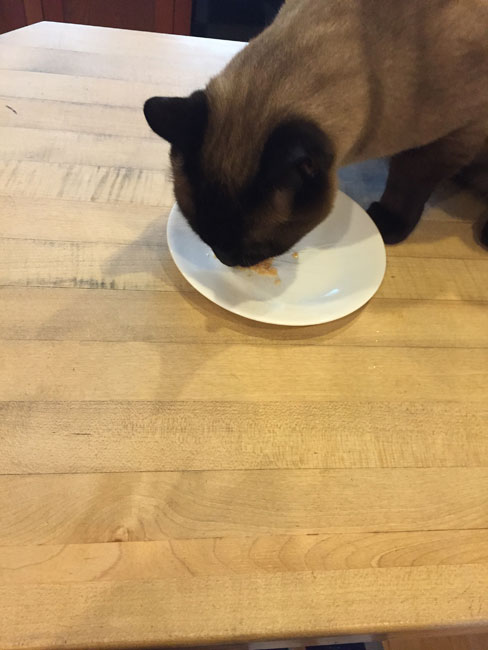 Yikes.
What a great weekend. I am exhausted.