… is kind of my new phrase, when stuff goes awry, when I've had just about enough, with apologies to all the Pete's I know, although I think at least one of them would like being the epigram of gone awry.
As in, "Oh for Pete's sake", I have been trying to write this thing for so long, I started on Monday looking back at the weekend, and now it's Thursday morning, and I've been to Chicago and back again, and I'm trying to get ready to head down there again, but this time it's more complicated because while I'm only going to spend the night in Chicago, I'm leaving from there Friday morning for the library conference in Florida – a much more complicated packing job. And more stuff to worry about – closing up the house and the cats.
Emma and Al were here, for a friend's wedding on Saturday. They arrived Friday night, and elected to sleep in Al's old room in the basement to escape the heat, even though the clean sheets were on the futon in my old room, while the ones in the basement were still coated with cat hair.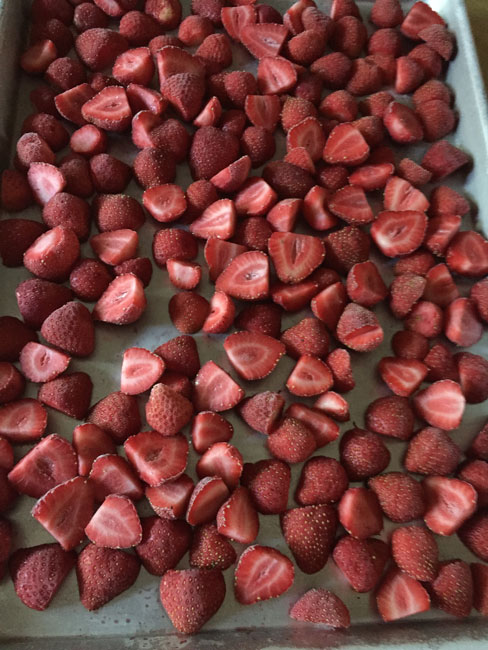 On Saturday morning I went and picked strawberries at Tipi. It took me literally 15 minutes to fill my bucket with about 5 pounds of berries. On the way back, I did a little grocery shopping, and came home to hang out with Al & Emma during the 4-hour gap between the wedding ceremony and the cocktail hour. I took down the too-big patio umbrella canopy I got after ordering the too-small one. Mark had rigged up a washer and zip tie system to secure it since we'd lost the topper – finial, I think it's called – but it still looked like it would blow away. I went on a vain quest for the receipt, digging through all the recycle bins, but I had the email order confirmation, and figured I could return it with that. (I could) I made an enormous batch of potato salad, and we had BBQ chicken sandwiches (frozen since Memorial Day) and potato salad for dinner and then went to see Bach Dancing & Dynamite for our last time this season.
Since they just told us they were engaged Tuesday, Al and Emma walked through a few places where they thought they might like to have their own wedding. They want a big swanky wedding, a hella party, as Al would say. On Saturday night they came in, soberer and earlier than I expected, right after we got back from BDDS, while I was sitting at the counter reading and eating gummy candy. Emma said it wasn't the greatest wedding, they saw a bunch things they don't want to do at their own – like the big gap between the ceremony and the reception – but the two people who were getting married looked just ridiculously happy all night, and that was the best part.
Sunday seemed like a good Sunday, I seemed to have time to do almost everything I wanted to do, if not everything I was supposed to do. I walked to the bagel place and got bagels, made fathers day brunch for me and Mark, saw the kids off, then biked over to the east side to give Omar & Twyla food – a grab bag of extras of what we'd been eating: 9 of the muffins, a big bucket of potato salad, the last of the BBQ chicken with rolls to go with, and a frozen asparagus pizza.
I returned the too-big umbrella, bought yet more stuff for decorating panda cupcakes for a baby shower on Tuesday – chocolate covered espresso beans for the noses, white muffin papers, a tube of black decorating gel, cereal for the ears, that I thought would be too small, so I bought two tubes of chocolate pastilles for $8, too (they were too heavy) – did a little work, baked the cupcakes to be decorated as pandas, watched game of thrones.
But then, on Monday morning, when it took me two hours to get out of the house, it was like, "Oh for Pete's sake", why didn't I do this yesterday? And now, "Oh for Pete's sake" I better go fold laundry and pack. Guess I'll have to tell you about Chicago and back next post.