It seems a little weird to say I didn't cook much this week when on Monday I prepped breakfast for 40 at the food pantry at the community center, and then went back to serve it on Tuesday morning. There were breakfast burritos and blueberry muffins. I made 40 burritos and 42 muffins and they disappeared way too fast for my Jewish mother heart to rest easy. I mean I think everybody got fed but more leftovers woulda made me happier. There had been a bunch of donations from Whole Foods, pre-packaged fancy salads mostly, but also some peeled cored fresh pineapple, that I cut up and added apples (tasting a small piece of each one to make sure it hadn't got a moldy taste from the bad ones in the box, with the Jackson 5 song in my head) so there was a big bowl of fruit salad. There were a bunch of fancy yogurts, too, Fage Honey, Stonyfield vanilla, and Siggi's orange & ginger. Oh, and I boiled two dozen eggs, to add another protein, gluten-free choice. So it seemed like enough, but it was tight. Guess I shoulda made some potatoes, too.
But this morning, Saturday, when I opened the oven the pans I had put in there to dry out on Sunday, my fluted tart tin and muffin pans, were still there, proving I hadn't used the oven all week. Let's see if I can corroborate.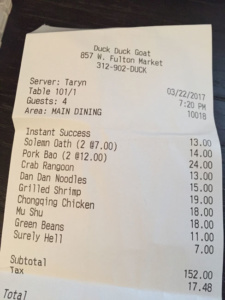 Monday Rach and I had salads for dinner, black rice and marinated garbanzos and pickled eggs & beets and greens. Belana got home late – she was having coffee with a friend on State St. and they missed the bus and decided to wait an hour for the next one, instead of having me come and get them. She microwaved the last bowl of vegetable soup when she got in. Tuesday I was in Chicago, and Mark and I had pre-symphony dinner at Pain Quotidian. I had a salad with goat cheese toasts and he had the croque monsieur which was a version with the bechamel sauce confined tidily to the top of the sandwich. Wednesday we had dinner with John and Megan at Duck Duck Goat, where it was upsell with a smile. "Oh, for four, I suggest 9 dishes". We had 7 (or 8 if the pork buns count as two) and were stuffed: two orders of Pork buns, crab rangoon, Dan Dan Noodles – which were great – thick, chewy, handcut noodles – a chicken with hot peppers, grilled shrimp with bacon, moo shu Pork, and green beans with black been sauce.
Thursday I met Al & Emma at the Madison Club to taste wedding food. Salad, red & white wine choices for the pour at the table during dinner, 3 entrees to pick two – they're going with the pork and the chicken – that all came with their own sauces on buttermilk grits, and of course cake.