All the stuff I did do this weekend … and all the stuff I didn't do. And, well not even all, because, of course, there's stuff I didn't even know about that I didn't do.
It was one of those weekends with about a million things going on.
Friday I went to the Rousers geezer show (that's a 6:00 to 8:30 PM show, perfect for us old farts), after I did the grocery shopping for Feast Forward on Saturday. I didn't pay much attention, but I know at least one of the other options for Friday was to go see Marc Maron, so that's at least one thing I did not do Friday.
Saturday I went to yoga first thing, so I did not go to the Farmers' Market. It was kind of cold, so not the worst day to hang around the house. I did some work, bought symphony tickets for next season, looked at dresses for Al & Emma's wedding but didn't buy anything, and mostly just cooked.
The Feast Forward menu was substantial appetizers. I only had 6 guests, so 8-9 people counting me & Mark. None of the kids came home to eat. There was corn & black bean salsa, with chips. I got a couple of small poblanos and roasted them, but it still needed more heat, so I added powdered chipotle and some Tabasco sauce. I made potted shrimp the night before – no one ate it except Max. Jumbo shrimp marinated in BBQ sauce and wrapped in bacon were a much better way to eat shrimp. Smoked salmon that I brought back from Seattle, with home made black bread. Chicken and tofu satays – except I didn't put the tofu on sticks, just broiled the marinated cubes – with peanut sauce and muhamarra for dipping. A big kale Caesar salad. Marzipan dates and a plate of strawberries arranged around a little cup of vanilla sugar. Cheese platters, olives, and nuts.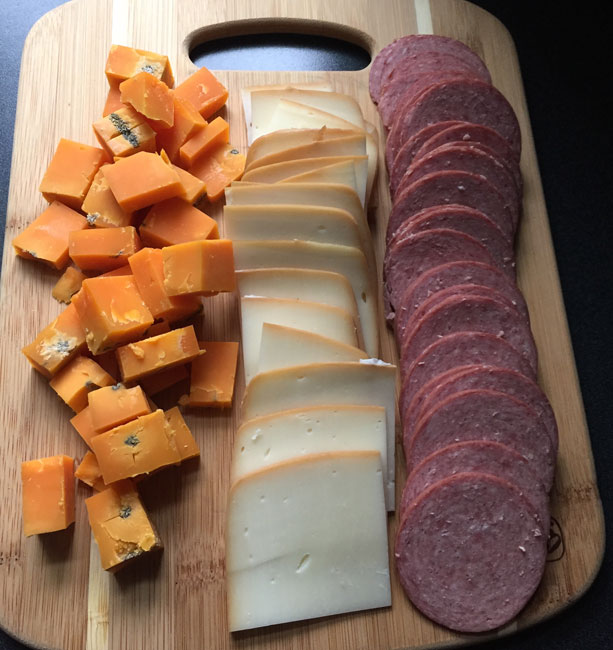 I went down to the variety show at Overture Hall, but only the group of three from my party went so I was by myself. I definitely felt out of place, and too hot in my tunic and leggings and boots. I wished I was wearing a cocktail dress like many of the other women. I even envied the high heeled sandals.
Also at Overture at the same time, Lucinda Williams was playing, also Itzahk Perlman. So more stuff I didn't do. There was a neon show at Chazen, MFA students I think. That's where the kids went. Downtown sure was crowded.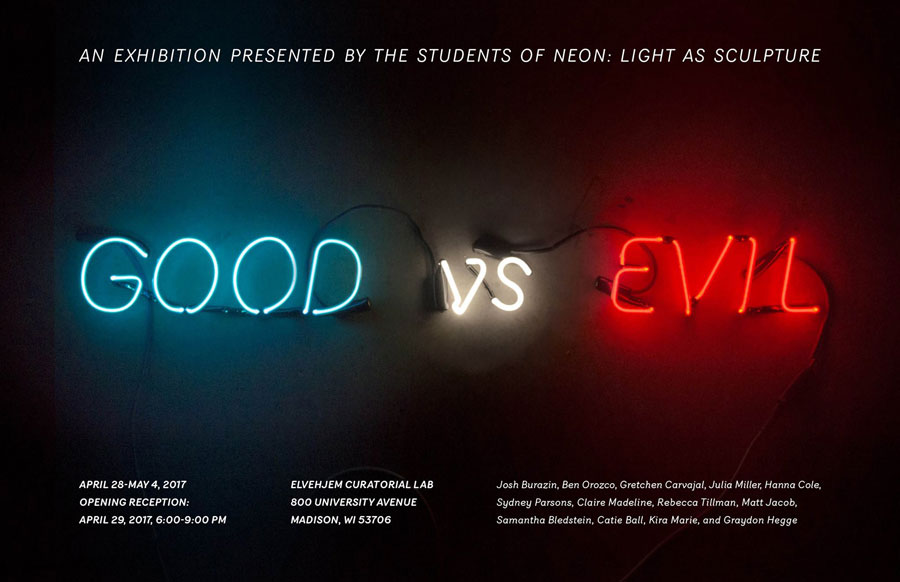 On Sunday morning I made pumpkin scones and rhubarb puree. We ate the scones with potatoes fried in bacon with red peppers, and the puree with yogurt and leftover strawberries. Actually even the scones were because of Feast Forward. I opened a can of pumpkin for the black bread, and used half for that, and half for the scones.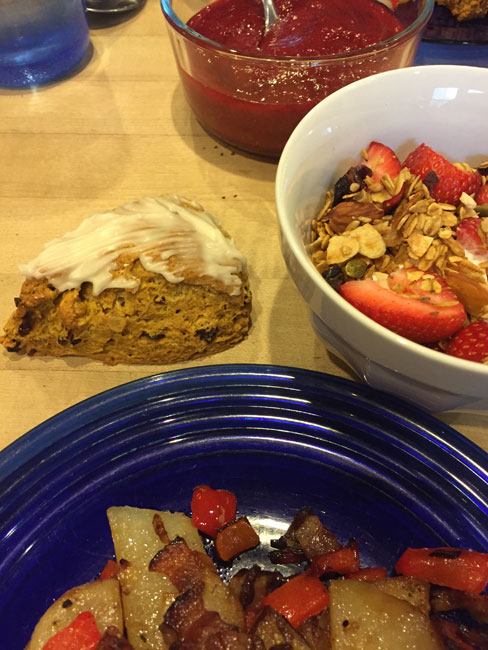 There was a cool thing Sunday night: a local bar owner who's been a major force in the local live music scene sold her place to another larger promoter and is retiring at like age 45. She threw a big party with lots of bands. But I didn't go. And, one more Sunday didn't: didn't watch the first episode of American Gods on Starz – so I guess I'll try to go do that now, on the Monday repeats.