I'm pretty sure the movie version with Audrey Hepburn as Eliza, and Rex Harrison as Henry Higgins, was my father's birthday movie in December of 1964. We had a family tradition (that I mostly upheld with my kids) that after the age of 7, no more big birthday parties with lots of little kids – everyone gets dinner out somewhere fancy, and a movie. Marni Nixon actually sang, rather than Audrey, and I'm positive that the soundtrack album that we listened to at home was the Broadway cast with Julie Andrews and Rex Harrison – I remember this cover.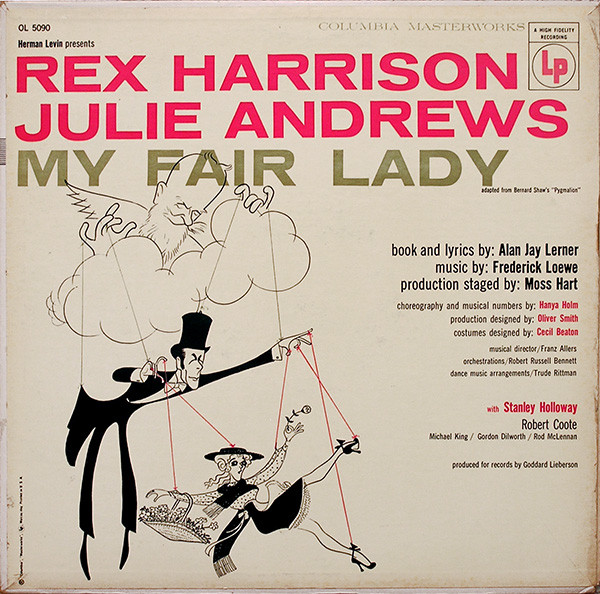 We went to see a newer version at the Lyric on Friday night, with Lisa O'Hare and Robert E. Grant.
I'd forgotten how many good songs are in My Fair Lady, "With a Little Bit of Luck"; "I Could Have Danced All Night"; "Get Me to the Church on Time".
The weather was kind of miserable – it was 93° in Washington when I left, and 45° and rainy in Chicago when I got there. Saturday was worse, though – we had packed up and walked out of the apartment intending to walk to the L, and it was so rainy I said let's go back in and call a Lyft or Uber. Just getting into the cab we got soaked.
But we must've chosen the right breakfast place, because shortly after we got our food, our Henry Higgins walked in. Cochon Volant, where Mark and I had had dinner about a year and a half ago, and I always wanted to go back for brunch. And it's on the way to the train. My "green" eggs Benedict – with avocado and spinach and artichoke hearts – were a little cold, but still tasty.
It stopped raining enough for us to walk to the train, and we were back in Madison by 4:00. The basement didn't leak too badly, I sopped it up, and I puttered around and got unpacked and fed the cats and threw out and composted leftovers – and that was my downfall. I had woken up at about 3:30 on Saturday morning, and not been able to go back to sleep, and was feeling over-tired and over-hungry. I probably should've just had a big glass of water. I thought, "oh, these cubes of curried tofu in the old fried rice look good, I'll eat a few", and there was a container of cold steamed green beans, not necessarily bad in of itself, but I thought a handful of tamari almonds would be good along  with … Anyways, when I finished cleaning and snacking, I entered everything in my food diary app, and with the snacks on top of the brunch, I should've just stopped eating then and there. I had informed the family that we were having rhubarb pie and ice cream instead of dinner, and of course I had some too. This first rhubarb pie of the season was kind of a cross between pie and crisp – runny filling, made from cooked rhubarb and frozen strawberries, and crumble topping on top.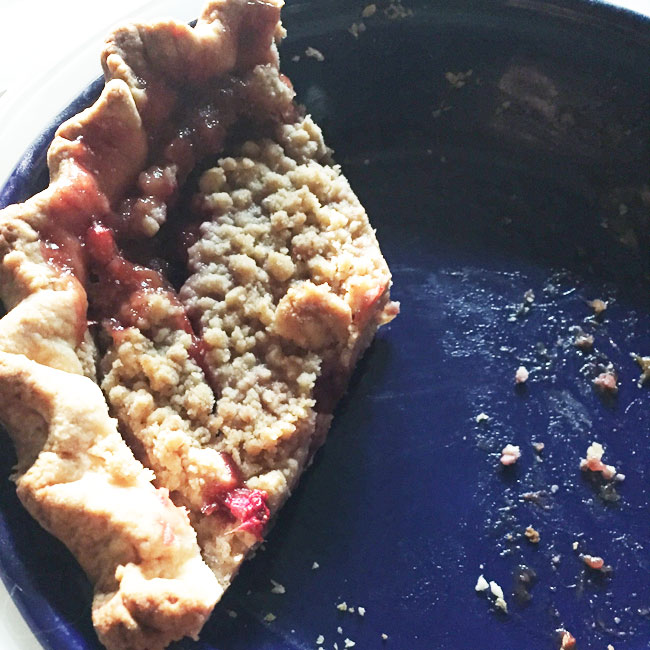 It firmed up considerably by Monday when I took this picture, when I had pie and ice cream again and enjoyed it much more.