Or, I don't think I'm ever going to catch up.
Mark's brother and sister-in-law came to visit the weekend before last, and then by a fluke we also got Mark's nephew, his wife, and their two kids who are 8 and 13, for an overnight. They were all on their way to the U.S. Open (which sounds like it was kind of a shit show, or a bit plagued anyways, with blimp crashes and contaminated water and heart attacks, and unfamiliar course) but they were staying in Wisconsin Dells, so they could tag team: some of the adults going to golf, and the rest taking the kids to water parks.
Then this past weekend, I went to Chicago on Saturday to see Robyn Hitchcock at Old Town School of Folk, tickets being my mother's day present from John. We already had tickets to see Bach Dancing & Dynamite in Madison (dueling mother's day presents – it's complicated) so Mark went to that with Belana, and I went to Chicago to see Robyn. While I was on the train, I got a text from my date, an archivist friend, saying she was sick and couldn't go. John & Megan and I had burgers at the place downstairs from their apartment – John discovered a burger & fries combination that was too hot (spicy) even for him – and then he and I went to Robyn, stopping for a beer on the way, and got there strategically during the last song of the opening act. Megan went back to the couch in the apartment – she'd been sick all week, too.
I felt like it was an off night – I kept telling John that the scene at Old Town would be folk geeks, hushed and reverent. I think he just thought it was dorky old people. He clapped after one Robyn song – but I can't remember which one, I'll have to ask him. Robyn & John're both Pisces, so I thought maybe a little simpatico might start. The set list looks good in retrospect, but isn't the saying hindsight is always 20/20?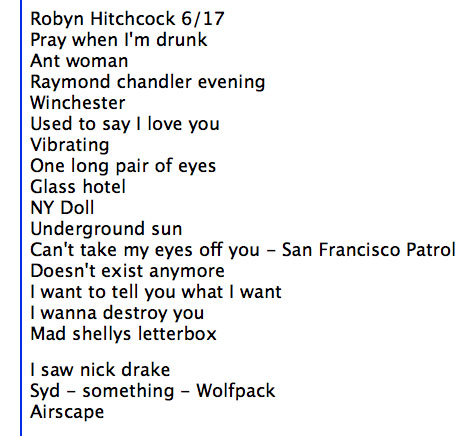 I slept at the Chicago apartment and got up the next morning, had a coffee with a friend, and caught the 10:30 train to Harvard. Drove to Milwaukee – a nice easy drive – and settled into the big Colectivo on Humboldt with an iced coffee and a bagel with peanut butter and did a little work, email cleanup mostly. Being in Milwaukee reminded me of visiting John & Megan when they lived there. We often went to that Humboldt Colectivo, and I went past close to a couple of their apartments, plus the place where we were having father's day dinner (Supper) was next door to the first place John lived after the dorms at MIAD – the Propect-Kane apartments, which was also close to the Back Room at Colectivo on Prospect, where Belana & I were seeing Robyn Hitchcock.
I picked a spot in between the restaurant & Colectivo and parked – there was a car up on blocks on the street so I figured I could leave my car there for a couple of hours, no problem. I walked on trails to the Milwaukee Art Museum, and met Mark and Belana, and we wandered around inside the museum and at the contiguous Lake Front Festival of the Arts.
We enjoyed dinner at Supper – Mark got prime rib, I got the Sunday special, fried chicken and biscuits, and Belana had a burger. $100 for all three of us – no alcohol is why, Mark & Belana don't drink, and I was going to have to drive home. After we stashed the doggie bag in the car, us girls walked over to Colectivo – it was doors at 7:00 – and Mark drove off to Harvard for the train. We had time for coffee and wander in the back Alley before the show.
I felt like it was a better show than Old Town. Nice intimate venue. Robyn came out and said, "Wow, this is not the Shank Hall. Every time I've played in Milwaukee before except for Summerfest 1989 – I'm sure you were all there – has been at Shank Hall." The chairs were hideously uncomfortable though – I put my sweater on the seat of mine for a little bit of padding. Robyn takes requests for these solo shows on facebook, which gives him a chance to make a joke – same-ish both nights – about how democracy is so embattled in both the UK and US that it is surviving only in this way of letting fans set the song list. The set list has a couple Robyn Hitchcock songs that I wasn't that familiar with, which I guess makes sense – I first became aware of Robyn Hitchcock with Globe of Frogs and Gotta Let This Hen Out and always sought out the songs with Peter Buck on guitar, but did not become a completely obsessed fan until the arrival of the Venus Three in the 21st century. The RH solo ones were 52 Stations, and September Cones (the guy who asked for that one stood up and danced) and a Robyn Hitchcock & the Egyptians: Serpent at the Gates of Wisdom, that I also didn't know well. And the repeats – I Pray when I'm drunk & Mad Shelly – were off the new album, or such good songs – Airscape – that I was perfectly happy with repeating.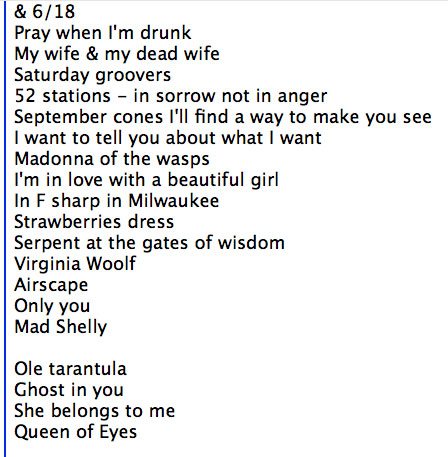 Anyways, we got back before midnight on Sunday, right about the same time Mark got to the apartment in Chicago. The leaves were still in the table from our house guests of the weekend before, under a slightly crumby tablecloth, I had piles of laundry and no clean underwear. With the ALA conference looming at the end of this week, and feeling terribly behind at work, and no time to write or cook up the vegetables from my CSA box, and events Monday, Tuesday & Wednesday nights …. sigh. It was worth it though.