It was kind of like watching a tennis match.
On Friday, Belana's parents were supposed to arrive at Chicago O'Hare at about 2:00 in the afternoon. Belana and her friend Kiera decided to take an early bus Chicago, so they could have a couple of hours downtown, then ride the blue line out to the airport and drive to Madison with the parents. Rach was here to teach a grant-writing working at MATC, so at 6:45 we were all in my car, taking the girls to the bus and Rachael to her office. I was in PJs, because I could come back home and bike in – I had a meeting at 9:30 so I had "lots" of time. I puttered around and got to work just before 9:00.
And, of course the German visitors plane was delayed – they spent about 4 hours in the airport in Montreal. They didn't get to Madison until about midnight.
Happily, that meant Mark and I could go to Ken Lonnquist's 60th birthday bash. Ken, who's played with about everyone for about forever, booked a bar, and put on what he called Geezerpalooza. Ken did a lot of music for kids, and had a gig doing environmental education in the schools with music, and that's where the Bat song came from. When Al was about 7 years old he was a pretty big Ken Lonnquist fan, and loved the bat song, and since Al has a late October birthday I have lots of Halloween themed cookie cutters. I remember showing up at Ken's New Year's Eve performance at Olbrich Gardens, it must've been either 1995-96 or 1997-97, with a tray full of bat cookies, in the hopes of getting him to do the song.
Ken Lonnquist & friends perform "Bat" at Geezerpalooza, Ken's 60th birthday celebration from Debra Shapiro on Vimeo.
I made a recording so that I could torment Al and it worked perfectly – when I showed it to him on Saturday, he couldn't even take 10 seconds of "Bat".
We took everyone to the Farmers' Market Saturday morning, and it couldn't have been a more perfect trip. Not too crowded (we got there early), not too hot. We pulled apart a cheesey bread and and some morning buns while sitting on the grass, and called it breakfast. Mark and Rach and I went home, and Belana and her family continued touristing. Kiera came down to meet them. They all seemed to have a good afternoon, except Belana got a little sunburned.
I biked to the co-op to get the rest of the non-farmers-market groceries and when I got back, Al & Emma had arrived. They had an appointment to look at houses, and ended up finding one they liked enough to consider making an offer.
Since there were all these people coming and we weren't sure when, I decided to use my mom & brother's approach to feeding houseguests – I made a big pot of vegetarian pasta sauce, so that within minutes of their arrival we could be eating pasta.
Well, since they arrived at almost midnight, we didn't eat pasta on Friday, but we had it on Saturday. Along with creamed chard, salad – with sugar snaps and little tomatoes from the market, and choice of French blue cheese, cranberry vinaigrette, or garlic aioli dressings, homemade baguette, and I made a batch of cookies so that we could nibble some, and they could take a bag with them on the road. The big excitement was while getting stuff down to set the table, I knocked a glass into another glass, and it basically exploded. Emma swept, I wiped off counters with wet paper towel and shook out rugs, and Rach vacuumed while I was in the shower.
On Sunday morning, my plan was to just put out breads and fruits and let people help themselves, and that all worked pretty well too. By 11:00, Belana was all moved out and by 1:00 Al was all moved in.
After everyone left, the weather was weird – rumbling thunder but no rain; one heavy downpour, and then intermittent rain. But the basement didn't leak, and I just hung out and kept washing sheets and towels and putting stuff back in it's rightful place. Picking up and cleaning after all the houseguests, Belana's move out, and Al's move in.
I made a cherry clafouti, a dessert that I often don't like. They're supposed to be quivering and creamy and usually seem dense to almost rubbery. But I used David Lebowitz's recipe, and he seems to have the same feelings about clafouti that I do, and this one was pretty good. We walked to the movie theater to see Wonder Woman – so as not to risk parking our bikes in the open and get rained on – and then had clafouti for dessert when we got in. I didn't remember that Wonder Woman's origin story was WWI; I guess I tend to think of all those D.C. Comic heroes as WWII. I think she's in that big Jules Feiffer book of comic book heroes that my brother got for Christmas in 1964 or 5, but it mostly talked about how she was a lost Amazon who had departed their secret island to aid the world of men.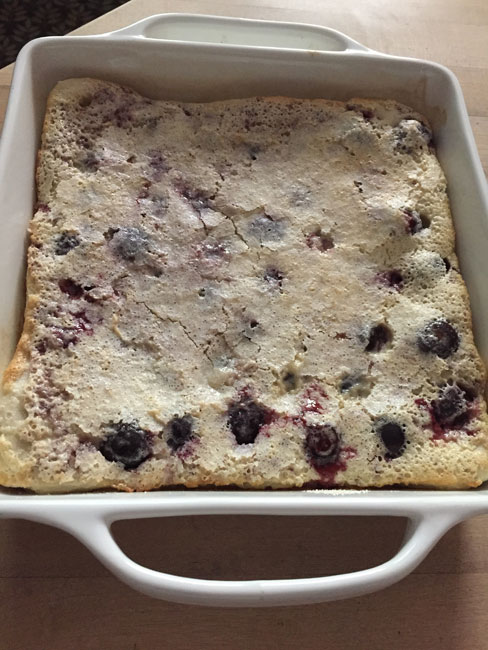 Monday I went for an early walk, worked a bit, did still more laundry, and spent time trying to finish the Underground Railroad, because I thought it was due. But around 3:00 when I was getting ready to bike to the library, I checked and I was able to renew the book. Which I was pretty happy about because I was felt kind of worn out, so I tried to compensate by eating a lot. Houseguests, still recovering from my cold, emotional highs & lows of kids moving out & moving in …. Weird Tuesday 4th of July schedule, too, no doubt.