I haven't written since we got back from D.C. two weeks ago.
I could say it's because I've been working on getting my fall semester online courses ready, and it's so much the same, writing content and posting it online in a content management system, that I don't have energy left for blogging.
Maybe.
I could say it's because I haven't been cooking much, and I just feel like I don't have much to say.
Maybe.
But what did happen in the last two weeks? Let's see ….
The first Saturday that we were back, I biked out to Manna Cafe for brunch with one of my friends from way back when I used to work at Pleasant Company. I'd never been there before – it was nice. In the evening we went out to APT for Cyrano de Bergerac. We were stuck behind a slow car from Mazo to Arena, and it was a little chilly and rainy – but we ate gummy bears and I had a hot coffee and it was fine.
Sunday I was going to host a dinner for an old friend who was in town for a few days …. her husband died last summer, and, even though they'd been living in Europe, Paris and Amsterdam, for almost 10 years, his parents are in Milwaukee, and they still had boxes in storage at another friend's house.
Anyways, she's allergic to cats, so I was going to vacuum thoroughly, then stash the cats in the back bedroom, but she's too allergic for that. So we moved the dinner out to Waunakee to the home of the other friends with the boxes. Schlepping food – it was like School Woods again. I made roasted chicken with garlic and rosemary from the back deck, and a vegetable ragout with corn and potatoes and tomatoes and romano beans, and ice cream sandwiches from a recipe that I made a few years ago, for a dinner when the neighbors with the three little kids came over. I remember doing something that made it work better back then, but dammed if I can remember what that was now. Might've been using parchment instead of the foil the recipe says to use.
Rach got here while I was out in Waunakee, and we had a good week. Several walks, and we went over to Al & Emma's on Thursday, and toured the new house, and ate salad: chicken salad made with the leftovers from Sunday, black rice salad, and some of the ragout, on greens. Both Al & Emma picked out the romano beans.
It was a long week, though – Monday was the iSchool faculty & staff retreat, Thursday was new student orientation – and I was cranking on courses, lots of days working till 5:30 or 6:00. Today I worked until almost 6:30, in fact.
And, oh yeah, John was here for work and he and I and Al and one John's co-workers had a nice pizza and salad dinner at Lombardinos, on Wednesday.
Then it was the long weekend. We went to see Garrison Keillor at Breeze Stevens Field. It was a little sad – Prairie Home Companion refuges – even Garrison said so – and kind of a small crowd. Nice moon though. I smashed my finger in the stall door of the women's bathroom, and then talked my way into the cocktail tent for some ice. It was a wristband only area, and the wristbands cost $7 which also included your first drink, but the security cop let me in when I said I just wanted ice, and the bar tender asked if I needed an EMT. No thank you, just ice.
John & Megan were here for a wedding, so extra people in the house, which was kind of fun. I made chicken and black bean enchiladas, and a greens and goat cheese and black bean casserole that's in the freezer. On Saturday, we brought home bagels and cheesy bread from the market for breakfast, and on Sunday I made my annual plum kuchen.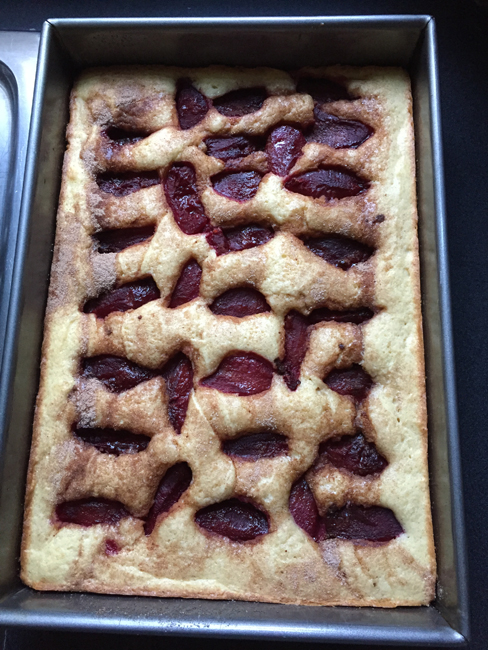 I was a little disappointed with it, didn't seem so wonderful as the last time I made it – I blame the plums. Monday morning I made egg sangwiches and cut up two kinds of melons from the Farmers Market, and Susan came over, and we had a casual brunch with the kids before they headed back to Chicago.
Meanwhile I've never been so sure the world's going to hell – Harvey, and now Irma, and Korean missiles.
And my current banner is the flowers arranged in fabric I used in a bundle dyeing with natural dyes workshop that I did right before we left for DC. The scarf and tea towel that I dyed are both still hanging in the basement,  still needing a final rinse before wearing/using.
The overleaf featured image is waves on the German island of Spiekeroog, where our former student Belana is camping. It was a nice Labor Day weekend, but I didn't spend nearly enough time doing nothing, staring at the ocean … or the lake … or even the lawn.