Days 1, 2, & 3 for us anyways – the Festival really started Thursday, so our day 1 was actually day 2 officially.  It didn't start getting confusing until Monday, when all the introducers started saying, "welcome to day 5" when it was only day 4 for us. But that's the next post. <grin>
Day 1, Friday, our first movie was called Outside In. It started Edie Falco as a high school teacher, and Jay Duplass as her former student. He's gone to jail unfairly and she's helped him get out. The film begins at that point, 20 years later when he's out of jail. Filmed in a dismal little town in Northern Washington where it rains all the time. Directed by Lynn Shelton who also did Your Sister's Sister, with the other Duplass, Mark.
The next one was Lady Bird, with Saiorse Ronan, who's about 23, playing 18, a girl who's a senior at a Catholic High School in Sacramento who's longing to get away. The actors playing her parents were good, Tracy Letts with a beard as dad, and Laurie Metcalfe as mom. I liked it a lot but the next day, thinking about it, I decided they were unusually self-aware high school kids.
For dinner we got sandwiches and curry fries from a food truck at TIFF Central – the couple of blocks of King Street that they close for the first weekend of TIFF, and turn into a pedestrian mall.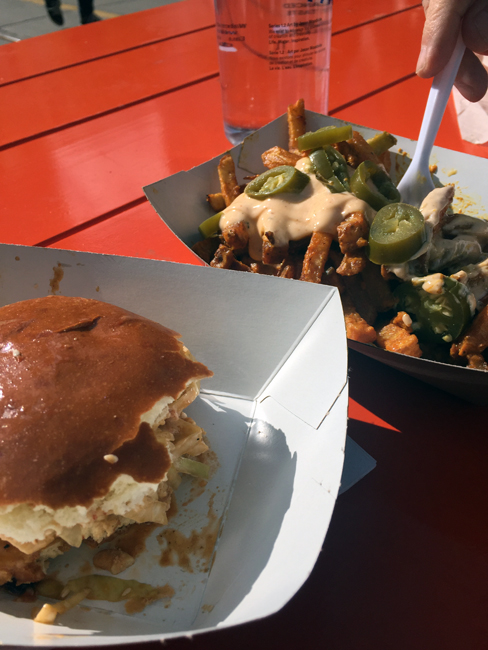 Day 2, Saturday, we got sweet cheese bagels from the St. Lawrence Market for breakfast, and then saw Never Steady Never Still, a film by Canadian director Kathleen Hepburn about a woman with Parkinson's disease that was really good but really tough to watch. Shirley Henerson played the main character. It was hard to watch because not only did you have to watch Shirley shaking, you had to watch her son doing stupid and dangerous things while drunk. Like I'm too drunk to drive, and everything's fucked, I guess I'll smash the front windshield with the tire iron, then drive. But it had a great awkward first date in the pick up truck – with the smashed windshield – scene with the son and a girl from his home town.
We went back out into the sunlight and  got lunch – I had Pad Thai and Mark got an omelette at a kind of fusion-y place on Queen Street.
From real problems to first world problems, our next film was Brad's Status directed by Mike White with Ben Stiller agonizing because all of his high school friends are more successful than him. I liked it better than Mark – with Mike White's directing, Ben was less cringe-worthy than usual.
Sunday we got up early to see The Children Act, based on an Ian McEwan  novel. McEwan wrote the screen play, and evidently he and director Richard Eyre are long time friends as well as artistic collaborators. With Emma Thompson so professionally done all the way, though I just read in the paper that it's  going to TV before theaters. And not out till next year so no Oscar possibility for Emma. But it probably is a good monetary deal for everyone. We stayed for the Q&A because Ms. Thompson, Eyre, and one of the producers were there. I was so glad that producer explained that the ending was different – they manufactured a deathbed scene for the movie – because I was rummaging my memory, saying "wait, this didn't happen in the book ….. did it?". To me it was also interesting that both this film, and Outside In, had a much younger man kind of in love with a powerful woman.
We took the subway up to Yorkville and went to Cafe Boulud for brunch. It was nice to get up to that part of Toronto – there aren't any movies up north this year, in the theaters we liked up there like Bloor Hotdics and Isabel Badercat Toronto University. TIFF is cramming Bell Lightbox and using more of the Scotia Bank multiplex, which at Lightbox, anyways is resulting in long snakey lines of people crowded together too long without good ventilation, and volunteers with orange paddles with cinema numbers leading movie-goers up escalators. Brunch was nice – I had a mushroom omelette and Mark had croque-monsieur and we split a Caesar salad and a yogurt parfait to start. I did get a bit of a franchised feeling – that's Boulud for you – and I question the choice of having the hosts wear bright red, scoop neck, narrow waisted, full skirted dresses. They were as bad as bridesmaids' dresses for not really flattering any of the three young women there wearing them.
Our last movie was Mary Goes Round, which for me supplanted Lady Bird as best of fest to that point. Another excellent Canadian woman director, Molly McGlynn, about a young woman facing the fact that she's an alcoholic, kind of making peace with her estranged father and half sister. We stayed for the Q&A and the director said something about the family you're given vs. the family you made. Mark said it was a perfect film fest movie – funny, smart, well done and probably never in broad commercial release.