On our day 4, Monday, our first movie was Happy End directed by Michael Haneke, the Austrian director. It's kind of a sequel to sequel to 2012's Amour, that I think we tried to see at our very first TIFF. It was really well done but hard to feel sympathetic for all those rich people.
We got breakfast at Senator. It was after 11:00 a.m. so no pancakes or French toast, but we split an all day breakfast: eggs, toast, potatoes, bacon, and because it's Canada, baked beans, and a grilled cheese with more bacon and tomato. And coleslaw.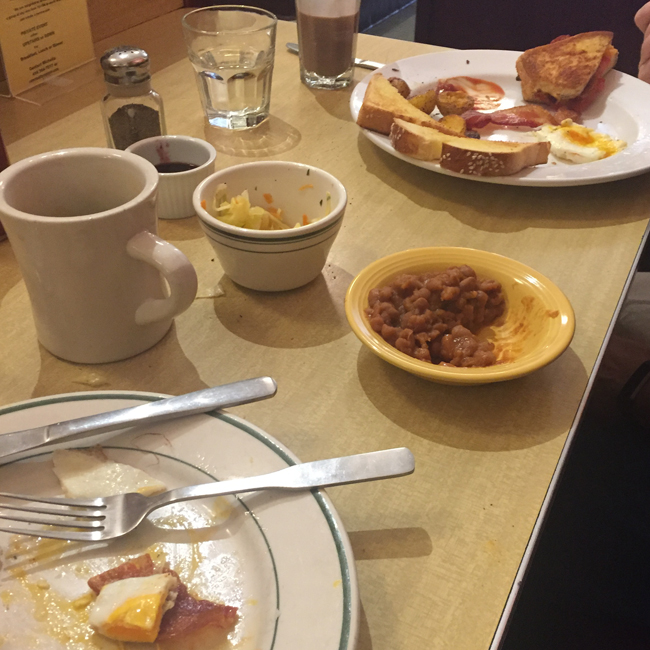 Thus fortified, we proceeded on to the Princess of Wales, a big fancy theater with, for the first time at TIFF, reserved seats. We saw Battle of the Sexes, a biopic about the Bobby Riggs/Billie Jean King tennis match in 1973. We were both alive at the time – I was 18 and I thought it was silly; Mark must've been about 22 and remembers following it intently. They were handing out Lindt chocolate samples to people waiting in line so I grabbed one.
We went back to the airbnb because I had an online class session. Mark went and hung out in the closest Starbucks while I conducted the meeting. I think we just ate whatever – I finished the cherries we bought at St. Lawrence Market on Saturday.
We had to walk back to Princess of Wales for our last movie of the day, Hostiles, a Western with Christian Bales. It was a warm busy night on the Toronto sidewalks and not sure exactly why but I fell. Not too bad; I skinned my knee and got my hands dirty but not much else. This time the line samples were pizza, roasted red pepper and zucchini, so a nice treat. When we got in I went upstairs to the less crowded rest rooms to wash up and got a beer at the less crowded concessions, and snagged a few more of the Lindt chocolates. I felt I deserved beer and chocolate after the fall. The main problem was that the less crowded concessions was near an area where they had free popcorn for some premium ticket people and group of them was seriously trying to budge me in the line. Over privileged jerks.
The film started about 40 minutes late. It was directed by a white guy, but they had Native American consultants, and they came out to speak, and we got blessed by a chief. Supposedly – he could have been saying curse all you white bastards to hell for all we know. Mark said the joke was what Sherman Alexie says about Indian time – they got the whole theater on Indian time. The movie was good, but slooow. A Western with lots of far away stares. Beautiful scenery, not a lot of dialog, and almost everyone dies.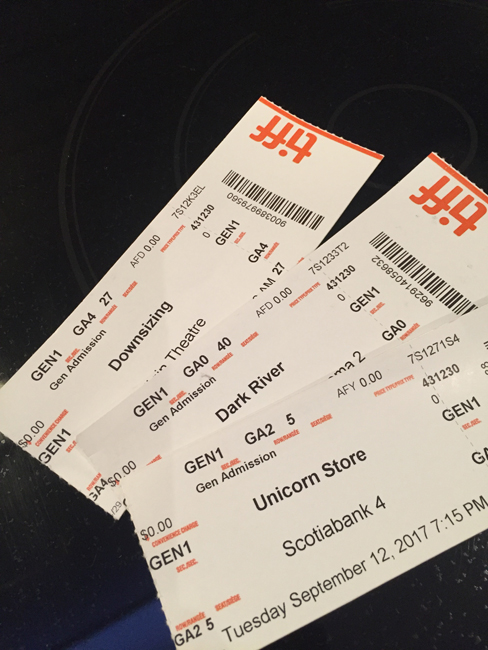 Tuesday morning I dragged myself out of bed at 7:00 – after the late night on Indian time – and did a little work. Then we got coffee and went to see Alexander Payne's Downsizing at another of the bigger theaters, the Elgin. It was hilarious – what if people could shrink themselves to 5 inches tall, to make less of an impact on the planet? It was filmed in Toronto, and the theater was filled with people who were extras and/or worked on the movie, including two women sitting next to us. Payne was there, and he said it was just one of his regular character studies, like the Descendants, but wrapped up in a bogus sci-fi premise. And Matt Damon playing one of his bumble-y suburban types.
We went into the Eaton Centre to the upscale food court for lunch. Mark got a pulled pork poutine, and I had a vegetarian brown rice bowl with spicy tofu that was really good after I removed the excess nori from on top. I had thought the food halls in Saks Fifth Avenue would be too hard to get to, but we ended up walking through on our way to our next movie at Lightbox, and were sort of sorry we hadn't come through to eat because it looked nice. Oh well.
The next movie was Dark River, Ruth Wilson as a young woman who left her family's sheep farm in northern England because she was abused by her dad, played by Sean Bean as a ghostly image she sees whenever she goes into the house. She returns after the dad dies to claim tenancy – she's in competition with her brother, who stayed, for it. Similar to Hostiles, gorgeous scenery, not a lot of dialog. Faster moving though. For the longest time you think no one knew why she left, but of course they all did, they're just not sorry for her for it. Small town. There's a scene where her brother says, "I saw you go to him", and she replies, "I couldn't stand waiting".
We walked east and I took some photos of the cows. I've always liked them – a little bit of serenity in the city.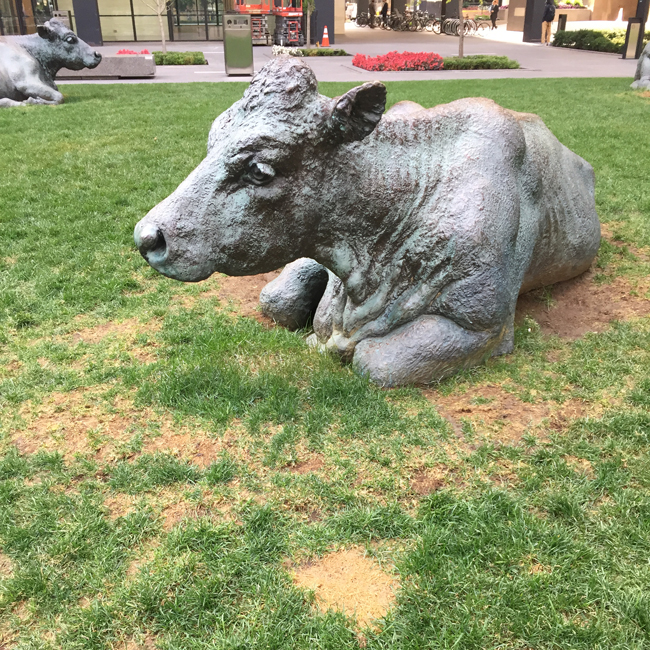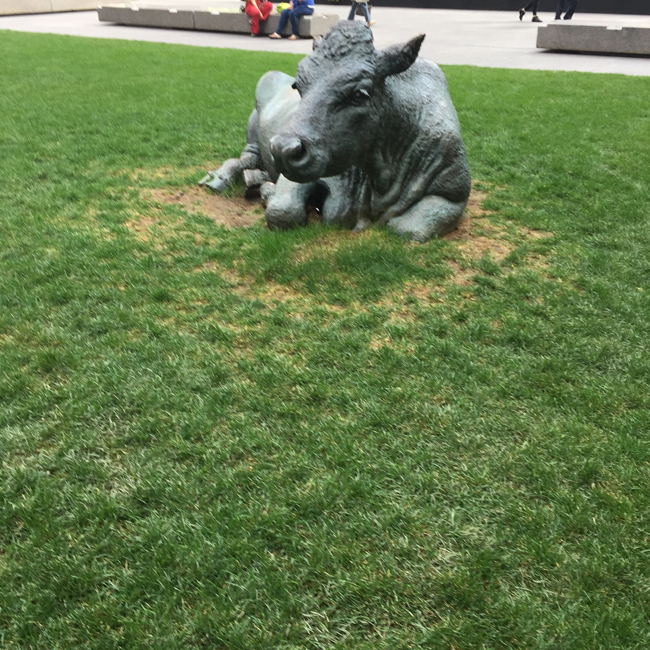 Our day finished with Unicorn Store, silly but well-made – directed by Brie Larson. Probably the best scene is her glitter and spangled pitch for an ad for mystic vacuum cleaners. It starts off almost like a realistic ad and doesn't get completely out of control until the last few minutes. Her last big movie, Room, was People's Choice here at TIFF in 2015, and she won best actress when it came out in commercial release in 2016.
We came home and ate ice cream.