On Wednesday, we started our day with bacon sandwiches at St Lawrence Market. That was a heap of bacon.
After the bacon, we proceeded on to Darkest Hour, yet another cinematic depiction of WWII, before the US got involved, like Dunkirk, and yet another version of Winston Churchill. We last saw him played by John Lithgow in the HBO series The Crown; this Churchill was Gary Oldman. Oldman was very good, but I think I liked Lithgow's Churchill better, and I also liked Jared Harris better George VI than whoever played him in Darkest Hour (Ben Mendelsohn).
This time we walked back by the doggie fountain. I guess it just opened in June of this year. 27 cast iron dogs are spitting water towards a golden bone. And there's one cat sitting on the side. I guess it's an Instagram meme, and people like to pose their dogs next to the sculpted ones.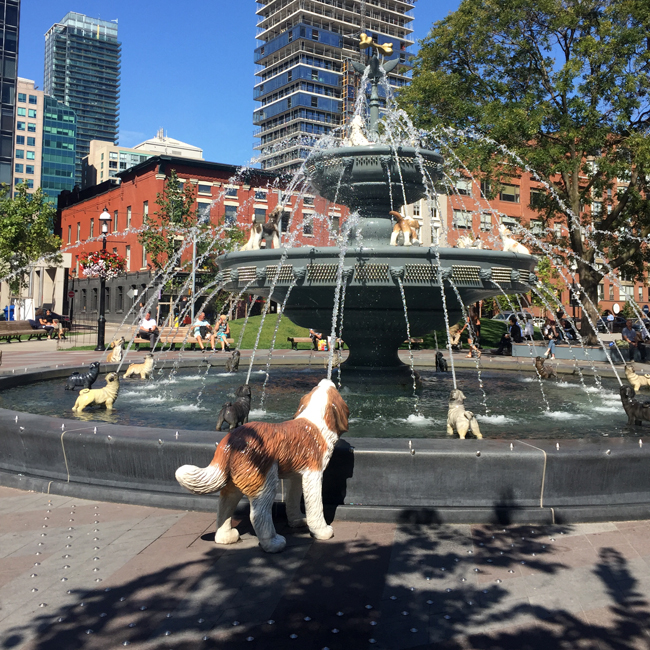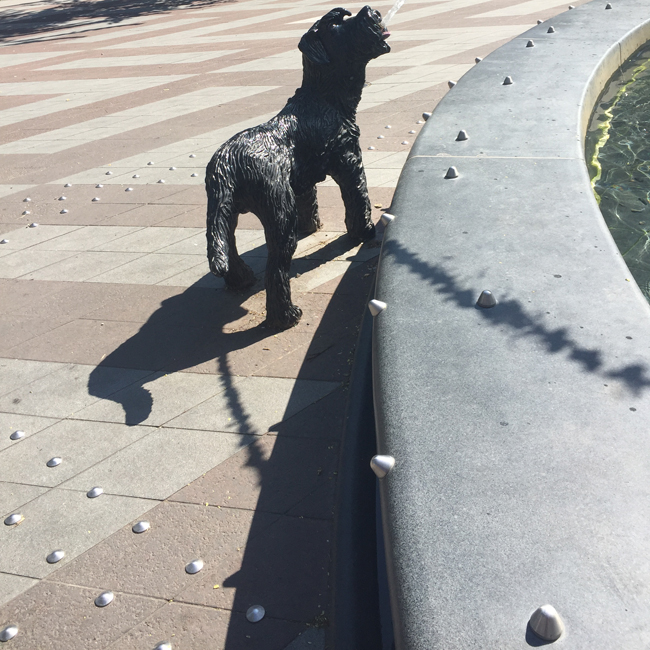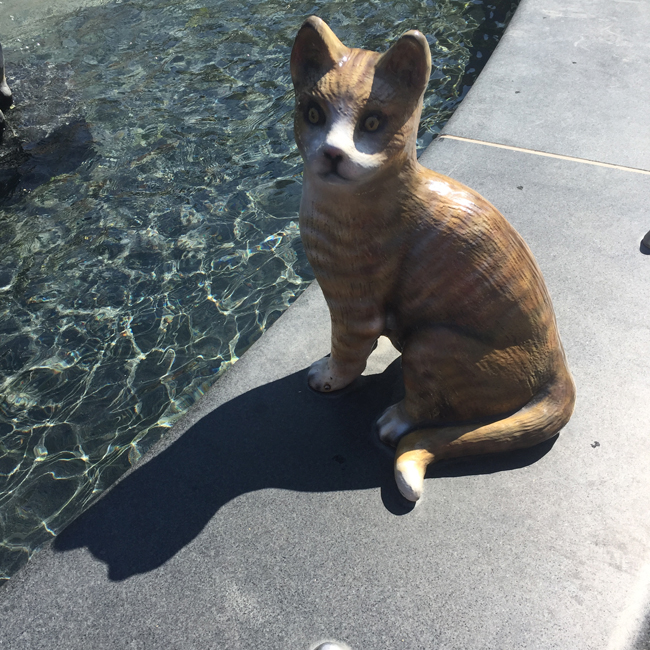 Our added midday movie was I love you daddy, by Louis C.K. and it was surprisingly great. It was another one of Louis' self funded ventures, premiered at TIFF, and he was very un-forthcoming with description in advance. Louis was there, and we stayed for the Q&A after the film, which was lead by Cameron Bailey, the creative director of TIFF (I started to write "the handsome Black guy who's the creative director", and decided maybe that was a bit insulting, like mentioning that a woman's pretty right off … but dammit he IS handsome!), and he said they got so little info from C.K. that the film was initially in the TIFF directory as an "edgy comedy". I had it on my list because I like Louis C.K., and we picked it as a fill-in because a Rolling Stone list of films to see backed me up. It was filmed in black and white, and has a terrific cast – C.K., Rose Byrne, Chloë Grace Moretz, John Malkovich, Charlie Day, and Edie Falco, Pamela Adlon, and Helen Hunt in smaller parts. Especially because of the black & white, it referred back to classic Hollywood movies – and was set in a kind of gilded modern New York City. The soundtrack was a full symphony orchestra recorded at Abbey Road, which increased the throwback effect.
We finished our day with Hannah, which was a serious French art film, with Charlotte Rampling, and really nothing more to say about it besides that.
Wednesday we passed the halfway mark – fewer films left to see than we had seen. We will see 27 or maybe 28 if we go to the People's Choice Award movie on Sunday night, and by Wednesday night we had seen 16 of the 27.
Our first two films on Thursday I think were our race relations movies, Mudbound and Sweet Country. Mudbound was about what happens when a black man who has served in WWII comes back to Mississippi, and tries to walk out the front door of the corner market. With Garret Hedlund as a white Southerner who also goes to war and comes back a drunk. He's really good in the part – I think he should play Ashley Wilkes. Directed by a Black woman, it didn't pull any punches on how openly racist we were at that time – tho sadly the degree of racism is probably not seriously decreased, 70 or so years later – we just hide it better.
Sweet Country was racism in Australia – what happened when a "black fella" Indigineous Australian, justifiably shoots a white fella, and is tried and found innocent. It had mostly unnecessary subtitles to help us with the Australian dialect.
We stopped for early pizza dinner at the place near our loft that we liked two years ago – True True, where you pick your toppings and they put them on a partially baked crust and run it through an oven on a conveyor belt. Fast and good.
We finished the day with Disobedience, Rachel Weisz, Rachel McAdams, and Alessandro Nivola, as three people who grew up together in an Orthodox Jewish community in London. Weisz is the Rebbes daughter Ronit who fled to America. When her father dies she comes back and we find out that while they were a threesome as kids, the sexual relationship was actually between the two women. There's some reference to "remember when your dad caught us…" and the implication that that was one of the reasons Ronit left. When she comes back Dovid, played by Nivola, and Rachel McAdams character, Esti, are married and Dovid is the heir apparent to take over Ronit's father's congregation. It doesn't end neatly, but there is some hope. Personally I think they were doomed from the beginning – all three of them loved each other since high school.