On Sunday we were gone from the airbnb for over 12 hours – from 8:00 am to after 9:00 PM. It was like a very long work day, but at least included dinner.
We got coffee at the closest Starbucks – not the fastest customer service but just down the stairs from the airbnb – and then headed to Scotia Bank one last time for My Days of Mercy. It starred Ellen Page and Kate Mara – the 1-sentence IMDB description is: "The daughter of a man on death row falls in love with a woman on the opposing side of her family's political cause." Ellen Page is the daughter, and Kate Mara is a paralegal who's dad was the partner of a cop who got shot. They meet at an anti-death penalty demonstration outside the prison where the cop killer is about to be executed. On Twitter, it was named one of the best LGBTQ romances at TIFF. Some others were Disobedience, that we saw; Call Me By Your Name, that we wanted to see but couldn't get tickets; Battle of the Sexes, also saw; A Worthy Companion that we didn't even hear about till too late. Disobedience was so serious – at least in Mercy, we got to see the two women at that first headlong falling in love phase, where they can't stay away from each other, and tease each other, and generally have fun with each other.
We took the Queen Street streetcar over to Ryerson Theatre for Death of Stalin.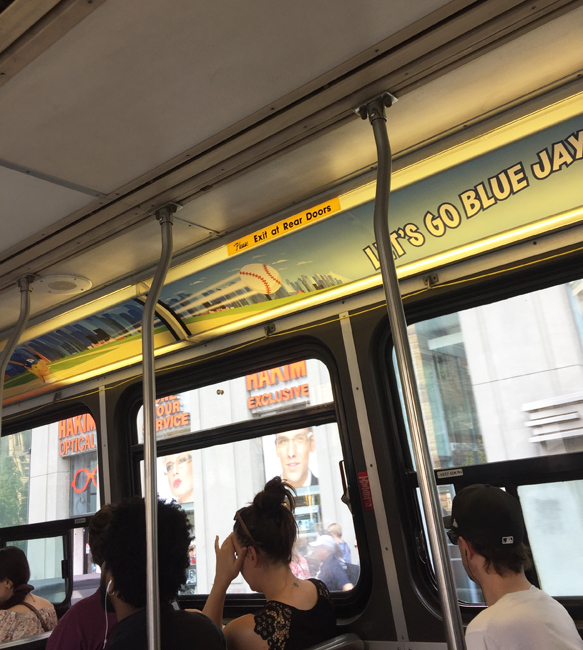 We got on the wall for the line, and I went to Starbucks and got an iced coffee in my to-go cup, that could be stashed in my pack when we went in – no food except bottled water in that cinema. It was Steve Buscemi as Kruschev, and Jeffrey Tambor as Georgy Malenkov, directed by Armando Iannucci, who also wrote the screen play for In the Loop, another fast-paced, foul-mouthed political satire. Death of Stalin made me feel the same way – like I wasn't quite sure what was going on, and it made me want to read up on Russian history. I vaguely knew that people were hauled out and shot, but not so many as it happened to in the film. Sounds like it might get banned in Russia.
When we came out of Death of Stalin we went to yet another Balzac's – this one in Ryerson University's Image Arts Building. They didn't have a lot of food left at 3:00 p.m. on a Sunday afternoon, but we got a seedy muffin and a decadent chocolate bar. I had an iced tea, that was sweet and lemony – I couldn't drink any more coffee. It was time to check on what film had won the TIFF People's Choice award – we were hoping it's be something we'd wanted to see, but couldn't get ticket for. And it was: Three Billboards Outside Ebbing Missouri. Frances McDormand starring in a movie NOT directed by the Coen brothers. So we wended our way back to King St., and Roy Thomson Hall, to queue up for tickets. I liked this relief on the Ag Building at Ryerson: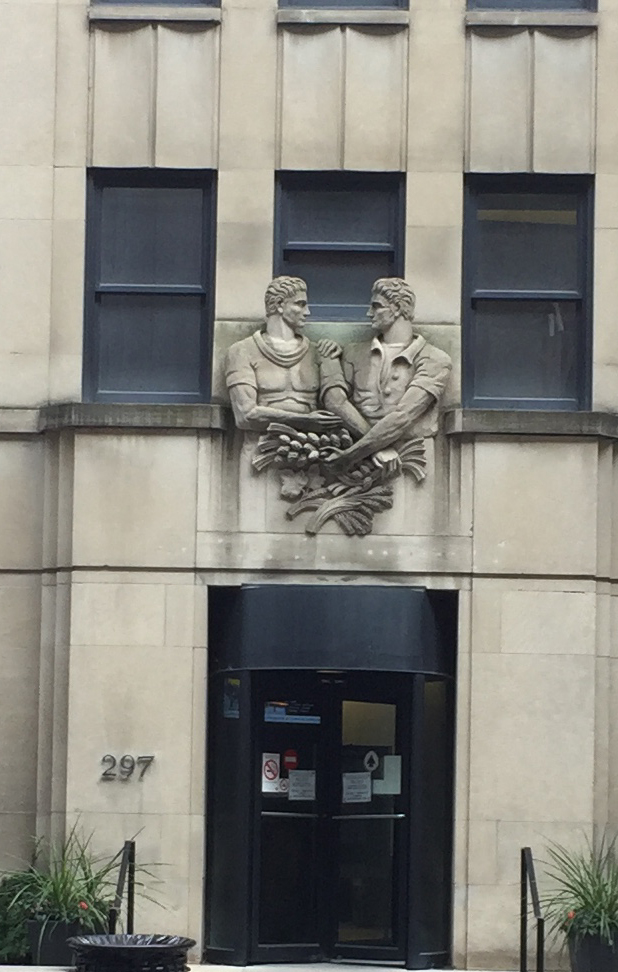 We collected our tickets – it was reserved seats – so we had a little extra time and went to a Starbucks the opposite direction from where all the other TIFF fans were going, and split a frap. I was trying do one of the Starbucks challenges; you have to buy a latte, a frap, and a protein box, for 150 bonus stars. The latte and frap were no problem, but I couldn't get a protein box in either the Toronto or Chicago airports so I didn't make it. Three Billboards was a little too violent for me, but good. And I like films where people are primarily shlubs – when everyone gets too noble I start to question the reality of the piece.
On our way to get the tickets we checked out Sud Forno, a restaurant that's part of the Terroni empire of Italian places in Toronto, (though I guess they also have places in L.A. and Hollywood) as a possibility for post-movie dinner. We decided to get a burger instead at South St. Burger, which was OK to good. Clean, fast, a very Shake Shack experience, and although the meat was nothing special the toppings were good, and the bun was superior – kind of a brioche roll. Firm. I wish my vegetarian banh mi on our first day had come on one of those buns, instead of the more common hamburger bun it was served on that quickly got soggy.
And we still had time to go back to the airbnb loft and pack.