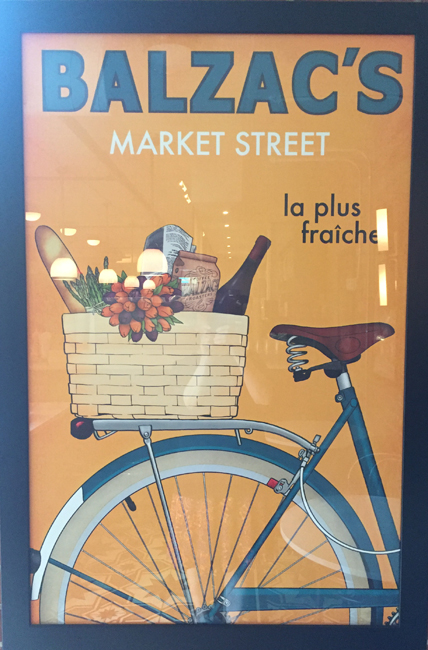 We got all packed (stopping for selfies) and took out the trash, and returned the keys to the airbnb to their lockbox, and started our travel-home day with coffee at the Balzac's at the (closed, because it was Monday) St. Lawrence Market. We drank our coffee and split a muffin at one of the outside tables, because I was dragging mammoth suitcase and didn't think I could maneuver it inside.
I made the decision to enter the train station at the first door we came too – so that I could drag mammoth suitcase on floor in air conditioning, instead of pavement in heat, and that meant we were going against foot traffic leaving the station – it was just about 9:00 AM. We got on the train and got headed to the airport, to find out that we'd actually tapped our fare cards on the wrong tapper. We'd used the one for other commuter trains rather than the airport, so were charged $17 CA, rather than $9 CA. The nice ticket agent on the train explained it to us, and gave us a number to call to get reimbursed – but since my card only had about $10 CA on it and we were leaving the country, not really worth it. Mark might've called – his card had more.
It was a little confusing to find the bag drop for passengers returning to the US; I kept seeing little American flags on seemingly random columns. We eventually found it, but my bag was too heavy – I blame the Roots sweatshirt I'd purchased and one of my web design books that had been in a different bag on the trip out. I pulled out the book and the sweatshirt and a pair of mismatched shoes, got mammoth suitcase under weight, and we were at the gate in plenty of time, although I was feeling a little sweaty and frazzled by then.
The flight was uneventful and I got the 12:30 bus and was in Madison by 3:30.
Twenty-eight movies:
Outside In
Lady Bird
Never Steady Never Still
Beast
Brad's Status
The Children Act
Mary Goes Round
Happy End
Battle of the Sexes
Hostiles
Downsizing
Dark River
Unicorn Store
Darkest Hour
I Love you Daddy
Hannah
Mudbound
Sweet Country
Disobedence
The Wife
Prof. Marsten and the Wonder Women
Who We Are Now
Ex Libris
I Kill Giants
Public Schooled
My Days of Mercy
Death of Stalin
Three Billboards Outside Ebbing Missouri
I think my top five were Lady Bird, The Children Act, Mudbound, I Love You Daddy, The Wife, Prof Marston – oh that's six. And Mary Goes Round was pretty great too.