The first week was characterized by heat, tomatoes, and Rach was here. Wednesday was Rosh Hashanah and I made challah. I got my annual CSA 25-pound box of tomatoes, and made sauce and blanched and diced and froze a lot of them and also made four trays of oven dried tomatoes. Rach and I bought this pot of mums for the front porch, that are now looking pretty pale and dried out because the 2nd week was pretty hot, too.
My second week back included a trip to Chicago on Tuesday night for the symphony – hot down there, too, but on Wednesday it started cooling off. We had belated birthday brunch for Mark at the Streeterville Beatrix, and then I walked back to the apartment by way of Target to work for the rest of the day.
We had a pretty eventful weekend of the 2nd week – Emmylou Harris & Ryan Adams Friday, Baby Driver Saturday, and John McCutcheon Sunday.
We skipped kol nidre on Friday, and went to see Emmylou Harris and Ryan Adams at Breese Stevens field. It was warmer, and more people, than when we went to see Garrison Keillor Labor Day weekend. That show was kinda sad – the ghost of Prairie Home Companion; the retired host and a few of his regular singers and actors, on the road one last time. Unfortunately, Emmylou definitely got the opening act sound. When she asked them to turn up her guitar all I could hear was her guitar player, playing slide. Ryan sounded great, though. I thought this was a whole tour but I guess it was just one night. I guess Ryan & Emmylou have been friends and collaborators for years – she sings on "Oh my sweet Carolina" and that's from like 2000 or so. They performed it last Friday, but the only recordings I've seen so far are blurry phone movies, so here's one from 2011.
Saturday night we went to see Baby Driver, our first movie since TIFF. It was good – nicely stylized. Flea as a moron bad guy, Jamie Foxx as an evil bad guy, Jon Hamm as a funny and almost creepy bad guy, Kevin Spacey as the criminal mastermind with a heart of gold.
I went for a walk Sunday morning – here's a late rose.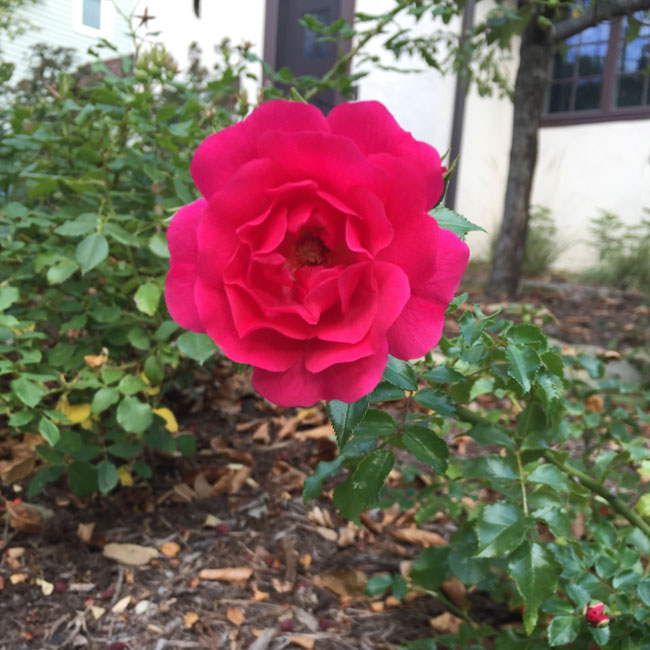 I made tomato tarts for Sunday brunch. I thought I'd try making overnight roasted tomatoes with slicers, to use in the tarts, but I was swayed by the comments one of the audience members made when I did the tomato program at the Stoughton Library in August. She said she roasts tomatoes quick and fast, so I tried that – 400° for 15 minutes. It seemed like the slices were too mushy, but I left them in the turned off oven overnight, and they firmed up, and each tart got 5 slices in the morning. The tarts were quite good. With honey goat cheese and Parmesan – I think these, made in 2012 for a commissioned dinner at Schoolwoods (do we say bespoke?) had fresh mozzarella and Parmesan. The crust was extra flakey – not sure exactly how I did that.
Sunday night Susan and I walked over to the Unitarian Meeting House to see John McCutcheon. I had no idea he was originally from Wisconsin – I thought he was from North Carolina. I first heard him play with Trapezoid, a band that started as a hammer dulcimer quartet. He was good, I just wished he'd played more hammer dulcimer. The last few years I lived in Pittsburgh, about 1975-77, I thought rock music kinda sucked, and I hung out with a folkie crowd. I mean Jefferson Airplane Red Octopus came out in 1975. It sold the most but to me was their worst album ever (Miracles, barf) even though the first Airplane I bought was a greatest hits album literally called The Worst of Jefferson Airplane. Some of my friends were going to see Bruce Springsteen at small clubs in Ohio, but I didn't go along, and I didn't hear the Ramones and Talking Heads until I got to Madison in '77. So those last couple years in Pittsburgh were folk and old timey and bluegrass. One of my high school friends learned how to call square dances and was in a string band called Buck Dancer's Choice, and they had a hammer dulcimer player, and that was the first time I heard the instrument and loved it.
John McCutcheon did this one; he said he'd just played with the orchestra at St. John's University in Minnesota – he's an alum.
The sunset over the meeting house was quite pretty as we walked through the parking lot.