Kind of a different one for me, because I didn't make a Christmas dinner, or a Christmas brunch either for that matter. Nothing like last year's $159 Christmas roast that looks like we ate with Yorkshire pudding and three veg: broccoli, purple cabbage and creamed spinach.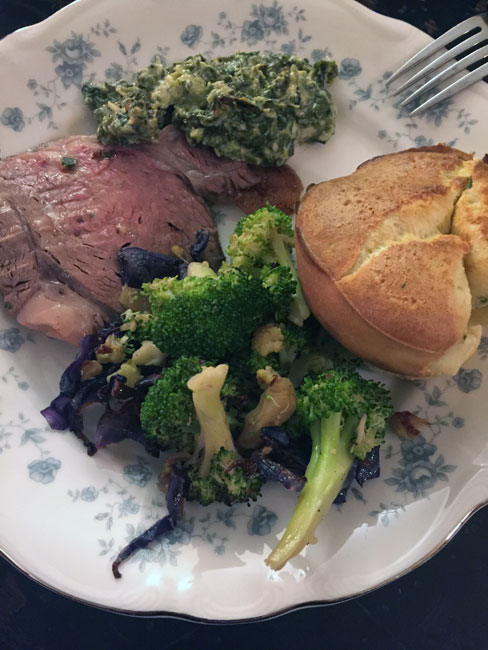 Here's what happened. There just weren't very many of us here to cook for, and I was suffering from lack of appetite.
On Friday, I worked, and ate mostly party leftovers – clementines, veggies with peanut dip, a cookie or two. When I got home I was pretty hungry, and continued eating snack-y stuff. We went to see Murder on the Orient Express (good job by Kenneth Branagh of remaking a classic), and came home and ate cookies, so not the greatest eating day for me.
The day before the day before Christmas, I made some pumpkin scones, and we only ate like two of them that first day. We had fried rice for dinner with all the vegetables from the bin, broccoli stems, and cauliflower, and a carrot or two – and the last dab of peanut dip, that gave it a nice flavor, and made up for lack of meat. I made veggie broth with everything that didn't go into the fried rice. My waistband actually felt more comfy Saturday.
On Christmas Eve, we had our traditional home made pizza and watch silly movies. Al came over and Emma, too – she got called in to work, but then didn't have to stay. We watched Elf and White Christmas (over Al's objections), though Netflix crapped out about halfway thru White Christmas, and since it was 10:00 the kids decided to head home. There were three kinds of pizza this year, a "Grandma" or Pittsburgh or sheet pan pizza, with medium-thick crust; and one with pepperonata and one with caramelized onions & goat cheese, on my standard long-rise thin crust. The sheet pan pizza crust recipe wanted you to pour an extra 1/2 cup of olive oil into the sheet pan before stretching the crust. I thought too much of that oil would end up on the floor of my oven, and, remembering back to my first pizza parlor job at Larry & Carol's in Pittsburgh, where we greased the pizza pans with a thick layer of vegetable shortening, greased my sheet pan with a thick layer of butter. I also made Ottolengi's fattoush salad, by way of Lottie & Doof. And a cookie platter. Emma had already eaten at her parents', but I ate lots of everything with 2 beers and 2 small cups of eggnog with brandy with my cookies. The baby fruitcakes and eggnog are a perfect Christmas treat.
So, I woke up Christmas morning feeling really UN-hungry, too much rich food. And there was nobody for breakfast except me and Mark, anyways. Kids were coming over for presents but not breakfast. So I didn't make another Christmas-y breakfast baked good, like overnight cimmy buns, or even quick ones. I didn't make baked eggs on creamed spinach with hash browns, like I was thinking (although I did parboil the potatoes), and I didn't make scrambled eggs with bacon bits and Gruyere, like I was thinking. And I didn't make posole to eat for Christmas dinner, after we came home from The Last Jedi. We ate pumpkin scones for breakfast – I had mine with a little cream cheese to be more festive. I tried to make a holiday dessert – chocolate Pavlova. I made sweet cherry sauce using up a bag of frozen cherries from last summer, but the meringues fell, so I didn't make the chocolate or vanilla pudding I was contemplating to fill it with. We had leftover pizza for Christmas dinner.
I got a soda stream and a fancy stool for the kitchen that turns into a step ladder, so no more falls like when I dislocated my little finger. Al & Emma gave us bike lights and a gift certificate for Lettuce joints in Chicago. Mark also gave me a really nice book of Paul Child's photos, that I had not heard about, even though it got reviewed in the New Yorker. And not a single cookie consumed on all of Christmas day.
The posole is simmering in the oven now for dinner tonight. I cooked the hominy on the 23rd, and made a little cup of chile puree, that will be going in after the meat's done. It smells great. I'm supposed to be having a real Boxing Day, sorting cooking mags and New Yorkers for recycling. I've done a bit – got some extra bags from upstairs to stuff the discards in, and sorted some of the piles of magazines in the kitchen – but I'm writing this post now, instead of doing more, and think I'll need to have breakfast before I can do more sorting. I'm thinking oatmeal with apples and prunes, for a more healthy start.