We had a pretty quiet New Years Eve. We walked down to our local good Italian restaurant, Lombardino's, for a late dinner – the reservation choices were 5:00 PM or 8:45, so we took the 8:45. Even with the reservation we had to wait almost 20 minutes for our table – they were that busy.
We split a chopped salad, the "Fraboni" pizza – hot Giardiniera, sausage, and cheese – and Paccheri (fat tubes of pasta that flatten out in the sauce) Carbonara. I had a kir-type cocktail, pomegranate liqueur & prosecco, and a glass of red wine, and Mark had a rootbeer, because they have Sprecher's. Dinner was nicely paced, but I wanted to get home to watch the ball drop in Times Square, which happens at 11:00 here in Central time, and we missed it. We walked in the door at 11:04, and had to un-bundle from our less than 10 minute walk in -3°. We turned on the Dick Clark New Year's Eve (now with Ryan Seacrest) and they had a Fleur de Lys drop in New Orleans for us in Central time. It was pretty lame.
On New Year's morning, I invited just a few people over for brunch, and we had Hoppin' John, eggs baked on top of creamed spinach, biscuits, hash browns with leeks (that I almost forgot to make) and leftover cookies. And a salad that Jane brought. I liked the eggs – they were based on a Fine Cooking recipe that's supposed to be curry flavored, but I left out the garam masala and just used the usual seasoning for creamed spinach – nutmeg, shallots, white pepper. I liked that there was no thickening – it was just greens in cream. I used spinach and mustard greens. I divvied up the greens in baking dishes, put them in the oven and got them really hot, then broke in the eggs. I was worrying about the egg spreading too much on top of the spinach, but getting the base really hot seemed to have curtailed that. I thought about poaching or frying the the eggs first, but that seemed like waay too much trouble. I used a Scott Peacock/Edna Lewis biscuit recipe, that's supposed to be made with lard, but I used vegetable shortening. The 10-pound bag of ground lard, that looks like brains, that I got with the pig we bought, is still up in Mark's freezer waiting for me to render it. I bet these biscuits would be really special with lard – they were OK with shortening, but I think I like Marion Cunningham's recipe better. One set of friends thought we'd never confirmed so we had 7 instead of 9 – but there would've been too much food even if those last two had shown up.
After brunch I cleaned up for what seemed an inordinate amount of time, put all the furniture back, and packed up all the cookies – except a few small containers of select favorites for us (baby ruggelach, apricot jam stars, and spoon cookies) to take to the food pantry where I'm serving breakfast tomorrow morning. I made small Ziploc bags with 6-12 cookies in each. I figure we can put them put on the rack with the bread for the food pantry customers, and they can just grab a bag. Or two. Or three.
I'm trying to have high hopes for 2018. I've always been a believer in the superstition that as the first day of the year goes, so the rest of your year goes. On the overly personal level, I have not exercised enough today – so don't want to carry that through the year. It's so cold and I wasn't done cleaning until after 4:00 and it was already getting dark, so I did not go out and walk. On the positive side, I had a pleasant meal and conversation with friends, so good deal if I can keep that happening. And maybe I got more exercise than I think, bringing the table leaves and chairs and plates and etc. up from the basement and down again.
I've also been thinking back to last January, of pussyhats and marching, for New Year's optimism.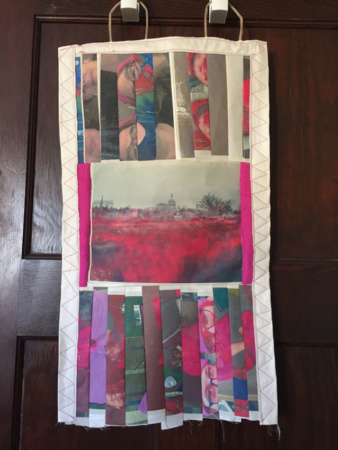 Fingers crossed. Happy New Year!