During the holidays, I was sure that M.L.K. Day was going to be January 22nd in 2018, because UW-Madison classes start on Tuesday, January 23rd. But, no, M.L.K. Day is today, January 15th, King's actual birthday – he'd be 89 this year – and for some reason not many of us understand, related to regularizing the UW academic calendar, classes start on a Tuesday that's NOT the Tuesday after M.L.K. Day.
Which means that we had a long weekend, and classes don't start tomorrow, for which I am extremely grateful. In one of my classes, I've sent a draft of the syllabus to students, and have the weekly dates and topics and readings posted. In the other class, I have the first three modules posted, but I haven't finished the syllabus yet.
I didn't do any of things that can be done on M.L.K. Day, like community service or attending the 38th annual event in honor of King at the State Capitol – nor did I listen to it on the radio. I just kinda cocooned up in my own little winter-themed bubble.
On Friday evening we walked downtown for a bunch of art closings & openings at Overture Center, met a friend, and went to dinner at Tory Miller's tapas place, Estrellón. We had pan con tomate and roasted carrots and a salad with pickled cranberries, patatas bravas, that we agreed was something like Spanish-themed poutine – French fries with sauce – and finished off with a Valencia paella. All delicious, but way too much food for the amount of exercise I got that day. One of the shows we saw was fiber art and it seemed like every retired librarian and school nurse we know had a piece in it. Overture Center was just full of old folks like us, desperate for a chance to get out of the house on a winter night, to a free event that started at an early hour.
On Saturday, we went to the indoor farmers market, and again the place was full of Madison residents escaping cabin fever. I bought a kabocha squash and a beauty heart radish.
We walked across the square to get coffee, verified by text that some other friends we were hoping to get together with are out of town, walked back to the car, and proceeded on to Willy Street Co-op for the rest of the grocery shopping.
I had dough rising for thick crust pizza, but we decided to go to a movie at dinner time, and have the pizza on Sunday. We're still working through the ones we didn't get into at TIFF, and Call me by your name was up. I loved it, I think more than Mark did; he said the problem for him was that he just wasn't as seduced by Oliver, Armie Hammer's character, as everyone else was. I wonder – Oliver has the same sort of relaxed, fair, insouciant grace, of someone so comfortable in their own fit body, that Mark had at a younger age, so maybe that's why Oliver didn't strike Mark as so attractive.
On Sunday, we ate the thick pizza for Sunday dinner, at 1:30. With a salad. No pickled cranberries, julienne beauty heart, pea shoots, and hunks of a slightly mushy avocado, with raspberry vinaigrette.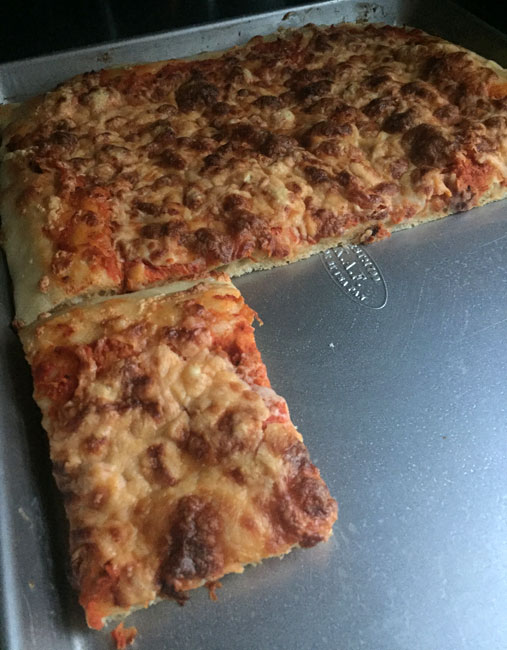 I went off in the snow to book club, to hear a photographer talk about getting her most recent book published.
Monday started with shoveling – we finally got a real snowfall, more than just an inch or two. I think I'll probably have to do more tomorrow morning. We had cinnamon rolls – from this Saveur recipe, that I make with about half the butter called for, oh, and only about half as much icing too, only one cup of powdered sugar – and eggs fried on top of a kind of vegetable hash, mostly potatoes, but also some parsnips and carrots, and bananas and clementines, for breakfast. We walked to Starbucks for coffee, came home and worked, and now Mark's gone to Chicago for his work week, and I'm feeling kind of at loose ends.
I've been having the same kind of problem I had over Christmas – no one to cook for so now what … Must be time to start binge watching Netflix shows. <grin>