The New Yorker sent out an advance look of next week's cover, and it pretty much sums up how I feel. Thanks to Roz Chast.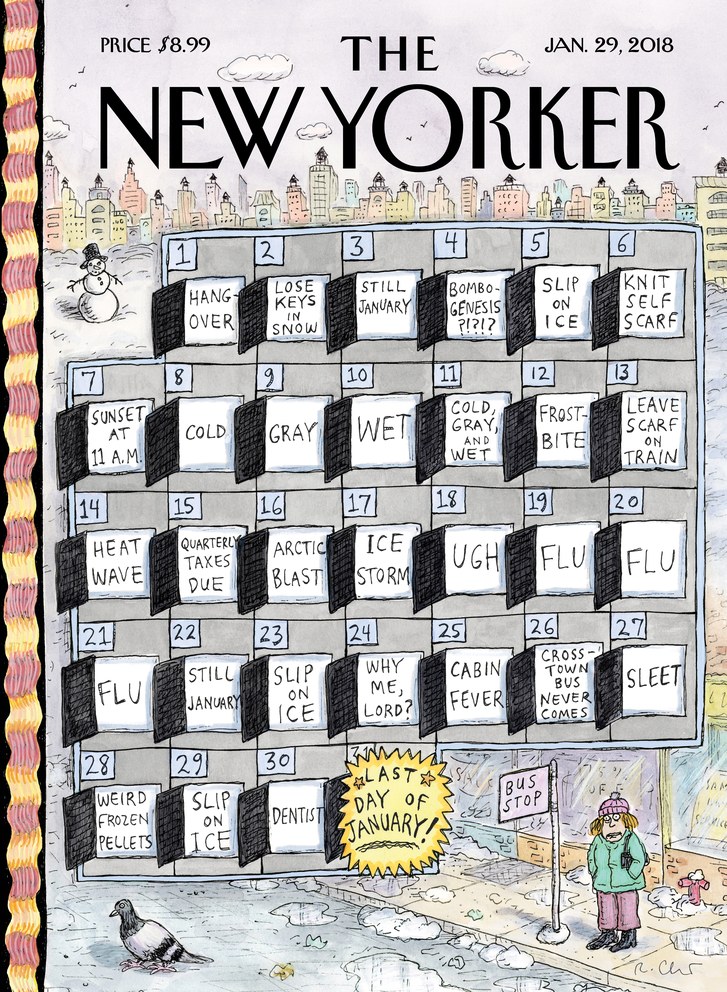 I feel like I've been holed up at work, trying to get my classes up and running, not even going for walks.
The weather has been unpleasant for the most part. First really cold with no snow, then up to almost 50°, then we got a lovely snow fall on the long MLK weekend, but then it went up to 40+ and it rained and everything melted. Topped off by a couple of inches of wet snow, which turned into ice. By Friday it's supposed to be almost 50° again, and it will all melt.
We're just continuing in this global-warmed WI winter tradition, of never enough snow to go out and play in, and mostly ice and freezing rain and yuck. I feel like the last winter when we had a decent amount of snow was 2013-14 when we got about 60 inches.
Here's our data from the State Climatologist – we're hovering around 10 inches for this year, while the average from 1981-2010 is more like 50.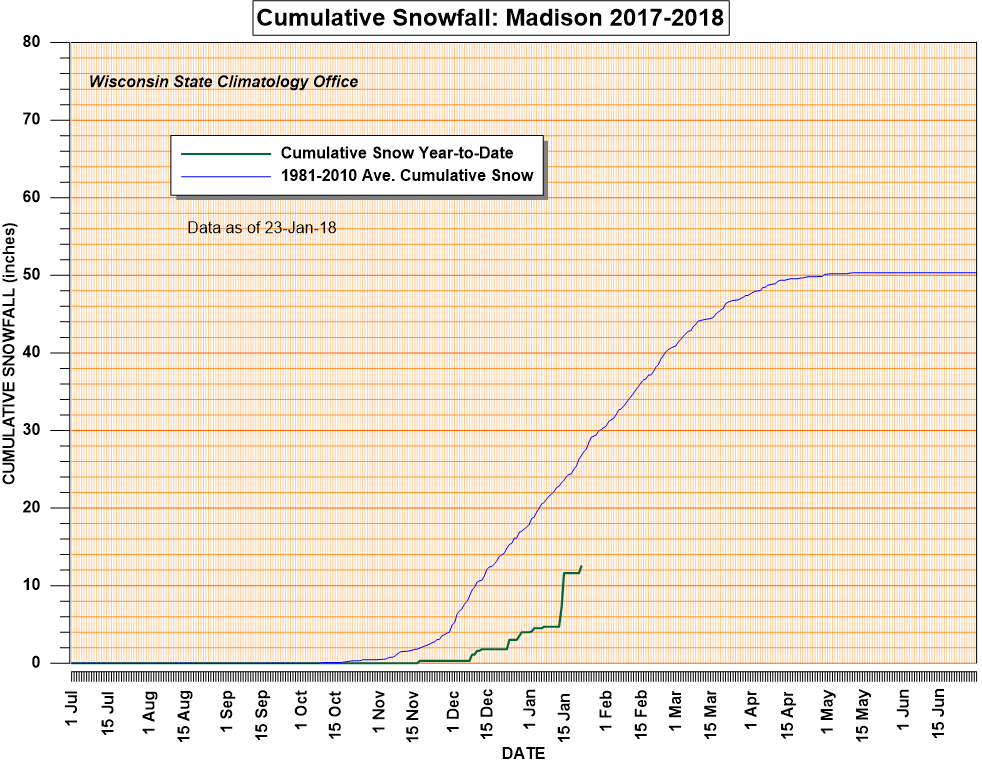 I haven't been doing anything terribly creative in cooking. I made this squash & garbanzo bean stew from Food & Wine on Sunday night, and we ate it on Monday. I subbed sweet potato for the delicata squash and left out the plantain and celery because I didn't have them – but I used vegetable broth in lieu of the 2 cups of water, and the broth had celery in it. A few days before, I made a last of the CSA potato & parsnip soup.
I finally used up the bowl of leftover chocolate that was in the fridge – on Sunday, I dunked marshmallows and crystallized ginger slices in it, and then made the somewhat gummy, un-choppable, hunks of ginger I'd bought at Whole Foods into clusters. Nice treat, but I think they're melting in the copier room at work right now – the coating chocolate has butter in it and gets soft pretty quick.
I went on a kind of throwing out old stuff tear the other night, too – 5- and 6- year old jams that people had given me, an ancient bag of semolina flour, and I even tossed my sourdough starter that I hadn't used in at least a year. I'm not sure how old it was, but it keeps as long as you use it – but I didn't. I figure I can make more the next time I want it.
Not much in the way of pictures, either, although the big news is that we are getting another exchange student for the second semester. They were with another family for the fall, and it wasn't quite the experience they were hoping for, so they're moving in with us tonight.
Maybe with another person in the house cooking will get more interesting.