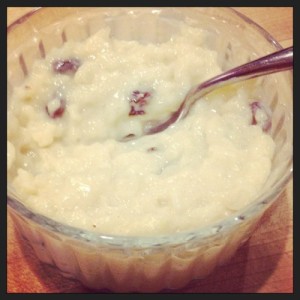 There are so many rice puddings out there – oven baked and cooked on the stove. Healthy, vegan, lean, and luscious. I usually make it to use up leftover cooked rice. I like a creamy, diner-style rice pudding best, but I've made it with coconut milk to be vegan. I've also flirted with a long baked variety, Tuergoule, or 5-hour rice pudding, from Normandy, because I had a recipe that I got in the now defunct Waitrose Food magazine. I like rice pudding best when it's warm – as the Tuerguole recipe says, "It is at its most unctuous eaten within a couple of hours of coming out of the oven. It firms if chilled, though some people may enjoy it this way." With stove top varieties you can cheat; once the recipe below has chilled, you can reheat single servings in the microwave, adding extra milk or half & half, or even cream for true decadence, to loosen it up to its freshly cooked creaminess.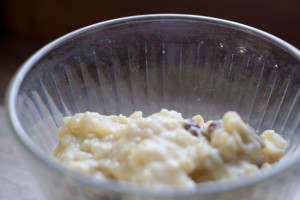 Looks like I wrote up my rice pudding recipe in 2006. I know there's also a small piece of paper with a hand written version somewhere in the two messy folders I keep with recipes clipped from various publications, and saved from the wrap of various foods, and copied down by hand, like we used to do, and printed from the Internet. Here's my latest greatest version, which is based on the recipe in Richard Sax's Classic Home Desserts, but he uses more sugar, and his pudding is designed to be chilled.
1 1/2 to 2 cups cooked rice, preferably white short grain (if you don't have leftover rice, cook 3/4 cup rice in 1 1/2 cups water until it is really soft – drain any excess water)
2 1/2 cups milk; I normally use 2%, but whole milk or coconut milk or almond milk are all good, too, and you can use skim if you're feeling abstemious
6 TBLS sugar, divided
pinch of salt
2 egg yolks plus one whole egg
2 TBLS cornstarch
1 TBLS vanilla
a handful of raisons – optional
ground cinnamon for sprinkling
additional milk or heavy cream or half & half
Other optional additions: cinnamon stick or orange peel to simmer in the rice and milk
Combine the rice, 2 cups of the milk, 2 TBLS of the sugar, and the salt in a heavy bottom saucepan. Add the cinnamon stick or orange peel, too, if using. Bring to a boil, then simmer for about 15 minutes. Meanwhile, mix the egg yolks, egg, cornstarch, and remaining sugar in a bowl. Pour or ladle most of the simmering rice/milk mixture into the egg mixture, whisking, and then scrape it all back into the sauce pan, and continue to cook, stirring constantly,  over low heat, until thickened, another 5 minutes or so.  Remove from the heat and stir in the vanilla. Sprinkle with cinnamon, and eat warm, or chill and eat with the additional cream drizzled over the top.
Notes: As written, this rice pudding is gluten free. You can make it diary free just by using a non-dairy milk, such as almond or coconut. You can make it leaner, and lower fat, by using a lower fat milk and reducing  the eggs to 1 yolk + 1 egg. You can also reduce the sugar, and/or use honey, maple syrup or agave. Leave out the eggs, and use a non-dairy milk to make it vegan. Here's vegan variant:
3/4 – 1 cup white short grain rice; OR brown short grain rice
2 to 2 1/2 cups coconut milk – go ahead and use full fat! – or almond milk, or soy milk, or vanilla flavored soy milk
1 cup water (or orange juice after testing, I have decided that the orange juice is only good with coconut milk – it's especially NOT good with almond milk)
pinch of salt
2 – 4 TBLS maple syrup, honey, brown sugar, or agave (use the smaller amount if you use the flavored soy milk)
1 tsp. vanilla
optional additions: cinnamon stick or orange peel to simmer in the rice and milk; raisons, chopped dates or other dried fruit
Combine the rice, milk, water, and salt in a heavy-bottomed pot. Bring to a boil and then reduce heat and simmer, covered, for about 30 minutes until most of the liquid is absorbed. Add the sweetening, and continue to cook until creamy. Eat warm or cold as above.